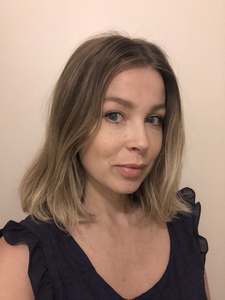 Tiffany Wollman is a visual artist motivated by a sense of imagination, sensitivity to the passage of time, desire for a better world, and a responsibility to protect the land and water of it. Sometimes she borrows photographs of others to portray a story of an injustice or natural disasters. For her she is taking time and making space to acknowledge and at least partially process the world event. She needs this part of her practice so that she can permit herself to be creative, play with materials, and to indulge in paintings that are personal and less urgent. Most often her own photographs lead to drawings and colourings that later may inform oil paintings in the studio. Through her work she spends time with memories of loved ones, lingers in the lines of flowers, observes the sun, and poetically selects colors, layers, and details. Learning to make natural colors from plants and flowers is skill she is growing along side her painting practice.

Wollman graduated from the Alberta University of the Arts with distinction (2013). Her sculptural "Pipe" painting was shown at the Museum of Contemporary Canadian Art when representing Alberta at the BMO 1st! Art Student Invitational Competition (2013). Wollman's work was included in Kim Dorland's curation of "Voted Most Likely" at Contemporary Calgary (2014). Her "Circle of Dancers" interactive and kinetic installation was displayed at Contemporary Calgary's LOOK fundraising event (2016) and The City of Calgary's New Year's Eve Celebrations (2016). Calgary Arts Development awarded her a Small Experiments Grant (2017), Calgary Allied Arts Foundation Residency (2018), and participated in the Arts Commons Lightbox Studio (2019).

She lives and works in Mohkinstsis / Calgary / Treaty 7.